Pigmentation Removal
At Harley Skin & Laser Clinic
Treatment Time:
15 - 30 mins
Recovery Time:
2 - 4 Weeks
Harley Skin and Laser offer a range of treatments for pigmentation removal, primarily we use IPL. Our skin gets its colour from a pigment called melanin, which is made by our melanocyte cells. Pigmented lesions such as sunspots, age spots and freckles can be triggered by excessive sun exposure, age, hereditary factors or hormones. Pigmentation can occur on the face, hands, arms, shoulders and chest. You may notice your pigmentation becomes more apparent in the summer months; this is your skin's response to an increase in sun exposure.
Age spots, sun spots, liver spots, freckles and other unwanted pigmentation are often associated with skin ageing and overexposure to the sun or sun-beds. From the age of about 40, the skin is less able to regenerate from sun exposure and age spots start to appear. Generally these age spots pose no health risk, however, they can be unsightly and create a patchy, less youthful appearance.
With our world-leading devices at Harley Skin and Laser Clinic Staffordshire we have a solution that enables us to achieve airbrushed and flawless skin for our patients. (See also treatment for skin peels.)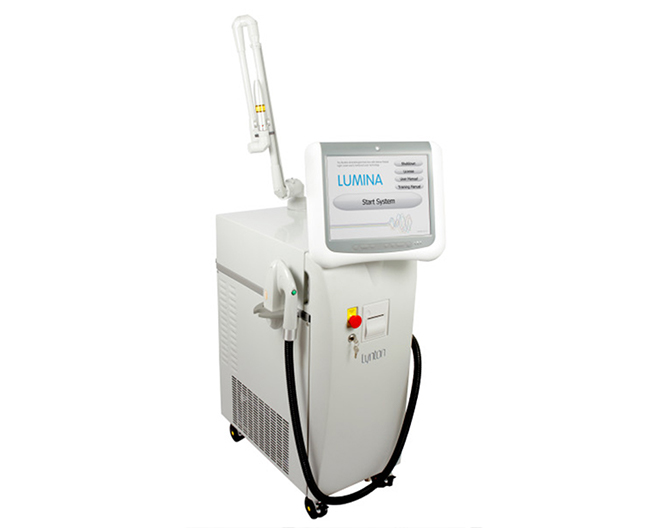 Discolouration and sun damage are a key sign of ageing, with an increase in pigmented lesions you will experience uneven skin tone and a lack of radiance. This non-invasive treatment uses laser or intense pulsed light (IPL) to break down the targeted cells, while stimulating collagen and
elastin production. Pigmented lesions such as sunspots, age spots, and freckles can be successfully cleared creating a more flawless, youthful, and glowing appearance. Following a thorough consultation, we may choose to treat your pigmented lesions with a combination of advanced medical-grade IPL, Alexandrite or Nd: YAG laser technology.
Key Facts:
Melanin defines your skin tone
Pigmentation is a treatable condition
When it comes to sun protection, consistency is the key
With advanced age, skin starts losing its natural even tone, overexposure to the sun does the maximum damage – wear a daily SPF
Before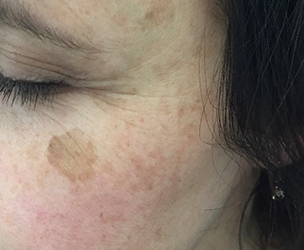 After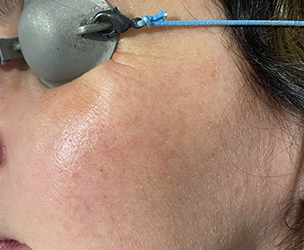 Before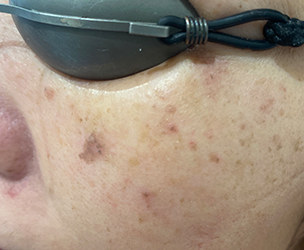 After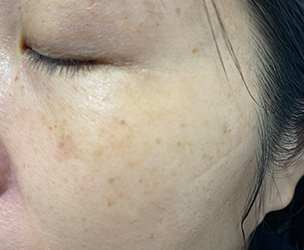 Our Step By Step Guide To Treatments
Nothing is more important to us than your health and wellbeing. During your initial consultation for pigmentation removal, we will discuss your medical history to be sure of any contraindications. This appointment provides a great opportunity to ask us any questions you may have, too. Before proceeding you will be asked to sign a consent form and undergo a test patch.
Step 2:
During Your Treatment
The light applicator is placed on the skin and a short pulse of light is released. The applicator is then moved to the neighbouring area and the process is repeated until the entire area is treated. With Q-Switched Laser treatments due to the power of the Laser energy delivered into the skin, a small amount of pinpoint bleeding may occur during the treatment, and a dressing may be applied after the treatment to protect the skin while it heals. During treatment protective eye wear will be provided. This pinpoint bleeding does not occur with IPL or Alexandrite treatment.
Step 3:
After The Treatment
The treated area may feel warm and sensitive for the first few days post treatment. The lesions may darken and may appear more obvious before they fade and 'flake' away. Sometimes an initial whitening of the area is seen which quickly fades and the pigment gradually fades over the following few weeks.
Frequently Asked Questions
Most people are suitable for treatment except for very dark skinned or tanned individuals. However, large, dark, mottled or raised pigmentation cannot be treated and may need to be checked by a dermatologist. Large, dark moles should not be treated, nor should lesions covering a large part of the body. The pigmented marks that respond the best are superficial lesions such as those caused by sun damage (sun spots) and freckles.
The skin that surrounds the pigmented lesion may become red immediately after treatment. Most people experience no other side effects and the redness usually disappears within hours to a few days. Very rarely a small blister may form or the skin may become temporarily lighter or darker.
IPL has been repeatedly shown to be an extremely effective and time-efficient solution for the elimination of unwanted pigmentation.