Consultation
With Harley Skin & Laser Clinic
Laser Consultation
If you are coming to see us for a free of charge laser consultation we will need to assess the skin or area to be treated to determine the best treatment programme for you. It is important you notify us if you have a tan (real or fake) or have applied any moisturisers including tan in the past 3 weeks as these can affect your ability to have a test patch. Please call your clinic ahead of your appointment if you are unsure.
As part of your consultation, we will discuss any current medications you may be taking as some medicines may interfere with selected treatments. Please bring with you a list of any medicine you may be taking and the doses, so that we can tailor your treatment programme to your individual needs.
Skin Concern Consultation
If you are attending a skin concern consultation we may need to remove your make-up. Consultation allows us to thoroughly explain the treatment, to ensure you understand its advantages and any risks and allows us to assess your suitability for the treatment. It is also an opportunity for you to have a confidential discussion with your practitioner, enabling you both to ensure your goals are understood and achievable.
During the consultation we will recommendations treatment and skin care options. Your skin data will then be used to put together an effective skin rejuvenation regime for your specific needs. The cost of this is £20 redeemable against skin care purchased on the day.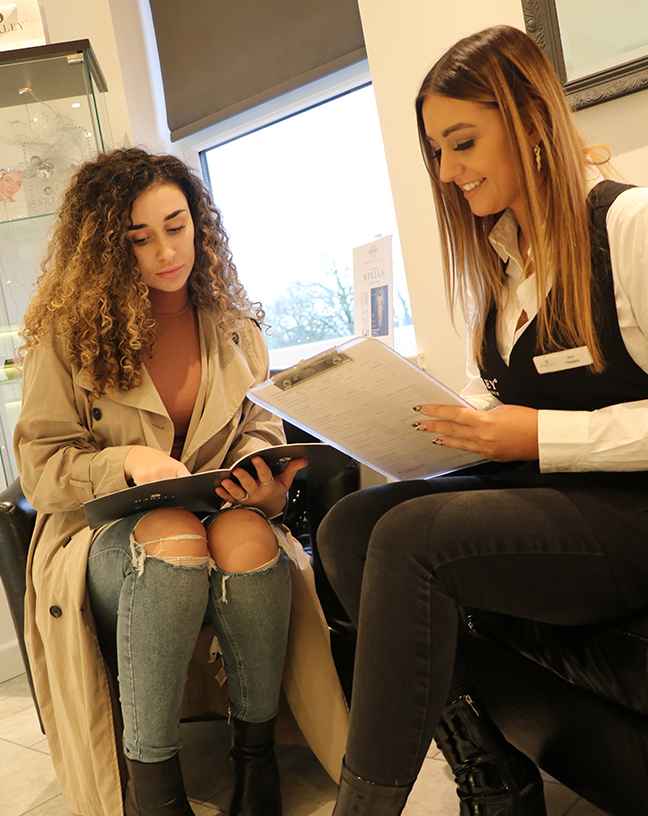 Body Shaping Consultation
We offer body shaping consultation for those clients thinking about how to improve their problem area. At Harley Skin and Laser we focus on the abdomen and love handles to eliminate stubbed areas of belly fat. To find out if you are suitable for Body Shaping Treatment we may need you to wear comfy clothes on the day of treatment so we can examine the stomach area to assess treatment options. It is also important to advise us of any medication you may be taking and if you have had any recent surgery. Body Shaping Consultation is free of charge.
Injectable Consultation
If you are attending a free of charge injectable treatment consultation with one of our medical team it is advisable to bring details of any previous injectable treatments you have had including; the treatment name, a product used and date of the treatment. If you wish to proceed with treatment on the same day as your consultation (providing you are suitable for treatment) please mention at the time of booking so additional time can be allocated. For the treatment we will need to remove your makeup, you may wish to bring it with you to re-apply afterwards, alternatively, we are able to offer a mineral foundation to be applied afterwards.